With the effects of manufacturer restrictions becoming more apparent for Covered Entities every day, it seems there's only a matter of time before they begin feeling these impending consequences. This has brought the efficacy of CE owned pharmacies to the surface, as many realize their benefits could lessen the negative potential impact of restrictions on Covered Entities. As the clock continues to tick on this issue, here are some ways a CE owned pharmacy may be the saving grace health centers need:
Avoid Manufacturer Restrictions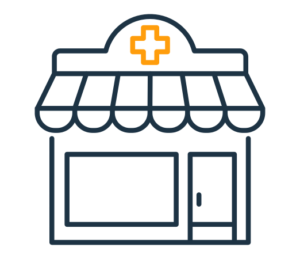 Manufacturers are beginning to offer discounts to only a limited number of pharmacies, giving those contracted with many different pharmacies a slimmer chance of receiving these benefits. If your covered entity is without a CE owned pharmacy, there is a much greater chance you will miss out.
CE owned pharmacies are the cornerstone of the 340B program, helping patients and providers step through these roadblocks and continue offering access to well-priced prescriptions. Having this ability on-location will enable you to process more prescriptions than those contracting with various outside pharmacies, setting you up for success down the road.
​Saving Your Covered Entity Money
To put it simply, with a CE owned pharmacy providing all necessary services in one place, not only will your covered entity save money through in-house staffing and partnering with fewer outside vendors, but it will also see a rise in patient traffic. You're saving patients an extra trip!
​We Do The Heavy Lifting
Building a CE owned pharmacy from the ground up is a huge undertaking. When you think of a typical pharmacy's necessary components – compliance, IT, hiring pharmacists – all of this must be outsourced if it's not handled under one roof. CE owned pharmacies provide comprehensive services in one place, a rare and valuable position to be in.
Because of Nuvem's experience in opening 340B pharmacies, we offer assistance with 340B registration – often clients' biggest hurdle. To alleviate further stress, we tackle pharmacy credentialing including board of pharmacy inspection and licensure, manage acquisition of NPI, NABP, DEA and Medicaid provider number, and set up a PBM network. Our experts also arrange drug wholesaler agreements and implement a comprehensive pharmacy service model.
Access To Medication And The Pharmacist
Medication adherence is an issue that continually hurts the health of patients if the entirety of their medication course is not finished. Easy access to both a pharmacist and readily available medications directly impacts patient adherence in a positive way, helping them achieve better outcomes. Providers also have quick access to the CE owned pharmacy staff, making them a more effective team with quicker turnaround times.
Clinical Benefits
Other contract pharmacies may say they have experts on their team, but they aren't on site. With on-site disease expertise, clinical pharmacists who have experience with particular populations can ensure patients receive good advice when it comes to medication management. Our locations are designed to include consultation rooms for one-on-one time with patients – a much different and more beneficial experience than receiving advice over the phone.
Don't wait to start ensuring the safety of your entity's future. Contact us today.